Skip Navigation
Presentations and Handouts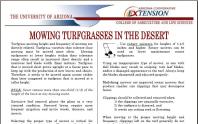 Navigation:
Links:
Annual Spring Turfgrass Management Seminar
Presentation at Cactus & Pine GCSA Seminar
Glyphosate Resistant Weeds Workshop
Football Field Day at Cardinal Stadium
Turf Paint Field Day at ASU Poly
Other Landscape Issues

NEW
These file are Adobe PDF publications. If you do not have Adobe Acrobat reader, you may download a current version for free to view this document. Click Here to download Acrobat Reader.